​The MEEA Policy Insider summarizes the latest state policy activity and provides new resources to aid members in their outreach, education and advocacy initiatives.
In this issue:
November 2022 Elections
With Sen. Raphael Warnock (D) winning reelection in the Georgia Senate runoff election on December 6, the 2022 Midterm elections have concluded. Democrats have retained control of the US Senate, with a 51-49 advantage. After the Georgia runoff, Arizona Sen. Kyrsten Sinema announced she would now be an Independent. She is still expected to mainly caucus with the Democrats and retain her committee seats, so this will not change the chamber's control. Republicans have taken control of the US House of Representatives, with a relatively narrow majority, winning 222 seats to the Democrats' 213. A split Congress will make it substantially more challenging for the Biden administration to pass its legislative agenda.
On the state level, all eight incumbent gubernatorial candidates in the Midwest won reelection. Nebraska has a new Governor, Jim Pillen (R), as Gov. Pete Ricketts was term limited. Though there were few changes on the executive side, there were legislative changes. Prior to the election, Republicans held control of 22 of 25 Midwestern legislative chambers. Democrats doubled control of their chambers, going from three to six, with victories in the Minnesota Senate, Michigan House and Michigan Senate. Those victories in Michigan and Minnesota turned those states into Democratic trifectas. The region now has seven Republican trifectas, three Democratic trifectas and three states with Democratic governors and Republican legislatures.
Anticipated Legislative Convening Date by State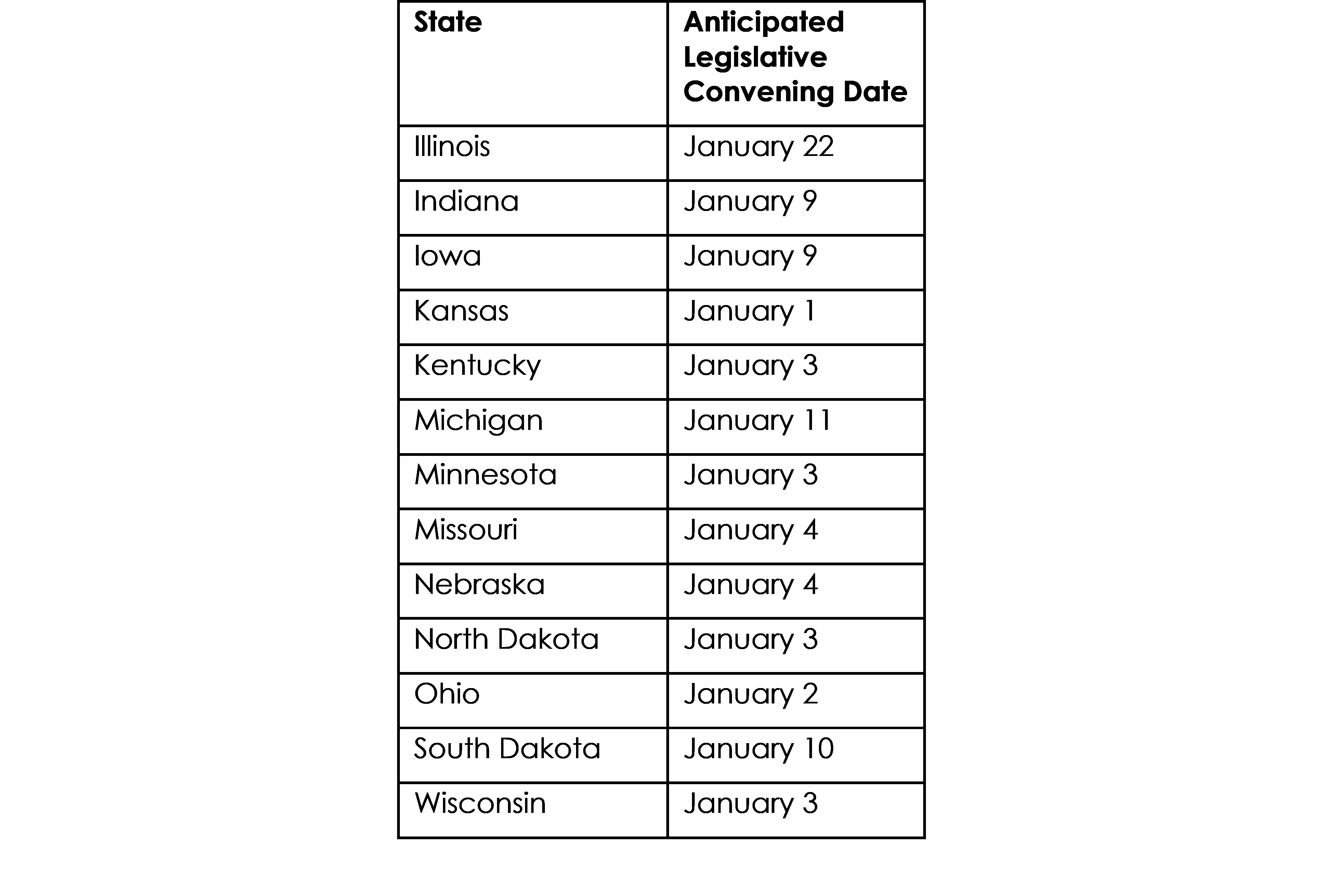 MEEA Policy Webinar Recordings
MEEA Midwest Election Recap 
On December 7, MEEA policy staff provided a recap of the recent elections across the Midwest and what the ramifications are for energy efficiency policy in the region. Recording>>
Assessing Equity: Resources for the Efficiency Industry
On October 27, MEEA hosted a webinar exploring strategies and tools for assessing equity and advancing fair customer outcomes in the energy efficiency industry. Speakers from Synapse Energy Economics, the Energy Equity Project and Illume Advising were featured to help attendees develop a strong understanding of energy equity and how to measure and incorporate it into planning and decision making. Recording>> 

Municipal
The city of Chicago recently released the Chicago Building Decarbonization Strategy Report. The document includes 26 recommendations on how to equitably decarbonize the building sector. The report was informed by the Chicago Building Decarbonization Working Group which included MEEA's Executive Director, Stacey Paradis. For more information on the report and its recommendations, see MEEA's recent blog. 
Though advocates were pushing for the reinstatement of the Department of Environment that was disbanded under Mayor Emanuel, Mayor Lightfoot has announced the formation of a new office, the Office of Climate and Environmental Equity. The new ten-person office will be tasked with overseeing the decarbonization of the city's building stock and implementing the city's climate action plan.
Regulatory
As mandated by CEJA, the Illinois Commerce Commission (ICC) is holding Equitable Energy Upgrade Program (EEUP) workshops to establish guidelines on a new energy efficiency financing tool. Workshops are ongoing and will convene monthly until consensus on the ICC's staff's proposed guidelines are reached. The most recent workshop was held on December 15, with more workshops to be scheduled for 2023.
The Income Qualified Energy Efficiency Committees – North and South (also known by its former acronym LIEEAC) held their kickoff meetings in summer 2022, a re-launch following CEJA's reorganization of the North and South Income Qualified (IQ) Committees. For more information on the committee, please visit the website at www.iqadvisorycommittee.com.
How to Get Involved
SAG meeting information and documents can be found on the SAG website. If you have any questions about Illinois, SAG meetings, or want to get more involved, contact Christian Koch.  

Legislative
The 21st Century Energy Policy Development Task Force has completed meeting. The Final Report is available from the meeting page (pdf link at the top right). Archives of previous meetings from 2019 and 2020 are on the Task Force page. Read MEEA's blog on how the Task Force missed an opportunity to advance efficiency in Indiana. 
Regulatory
2022 integrated resource planning continues for Indiana utilities: 
AES Indiana (formerly IP&L) continues its IRP public advisory meeting sequence.
CenterPoint has upcoming stakeholder meetings scheduled for December 13, 2022 & March 14, 2023. Registration will be on their IRP page when it is opened.
Updates from the Commission on IRPs in Indiana will be posted to the IURC's IRP page.
How to Get Involved
IRP meetings are open to the public and are typically announced through utility mailing lists. Comment periods for recently filed IRPs are ongoing. See the IURC page for comment deadlines. 
For questions about Indiana, contact Greg Ehrendreich. 

Regulatory
Iowa investor-owned utilities' Energy Efficiency Portfolio (EEP) planning process is currently underway. IOUs will file their new five-year plans (2024-2028) in the next several months. Alliant Energy held its third stakeholder meeting for their plan in September and filed on November 1 with the Iowa Utilities Board. The docket number for that filing is EEP-2022-0150.  
MidAmerican Energy and Black Hills have each held their first stakeholder collaboration meetings and plan to hold additional meetings in early 2023. After these meetings are completed, the IOUs will also file their plans. Please reach out to Ashley Taylor from Iowa's Office of Consumer Advocate, ashley.taylor@oca.iowa.gov, to be added to the EEP stakeholder list.
How to Get Involved
For more information about Iowa or to get more involved, contact Arlinda Bajrami.

Regulatory
In December of last year, Evergy filed its application for an energy efficiency proposal in Kansas under the Kansas Energy Efficiency Investment Act. The proposal originally included nine programs—four residential, four business and a pilot research program. Following settlement negotiations in July, Evergy and advocates in the docket filed two non-unanimous agreements on Evergy's proposed programs and financial recovery. However, Kansas Corporation Commission Staff opposed Evergy's proposed throughout disincentive and earnings opportunity, resulting in Evergy filing a motion to stay this docket to allow for continued negotiations with KCC Staff.  
On November 15, Evergy, in conjunction with KCC Staff, filed a revision to their plan and its financial recovery mechanisms, with the other stipulating parties not signing on to the agreement. The new plan removes some of the original proposed programs, shrinking total proposed spending from about $135 million to about $45 million. The revised procedural schedule can be found here, with an order now anticipated in February.
KCC Staff and Evergy hosted a workshop to discuss Evergy's Capital Investment plan on Tuesday, December 13th, the recording of which can be found here. Evergy fielded questions from the KCC Commissioners and Staff, as well as the Citizens' Utility Ratepayer Board (CURB), and shared additional details regarding their upcoming investments.
How to Get Involved
For more information about Kansas or to get more involved, contact Natalie Newman. 
Executive
On December 6, the KY Energy and Environmental Cabinet Office of Energy Policy hosted an Energy Efficiency Housing Funding Stakeholder Meeting. The meeting served as a convening of interested parties to discuss how funding coming to the Commonwealth for residential energy efficiency, namely through the Revolving Loan Fund in the Infrastructure Investment and Jobs Act, can be best utilized to provide impactful benefits to the citizens of Kentucky. The meeting recording can be viewed here. The next meeting is tentatively scheduled for January 25th at 1:30 p.m. ET. Updates are made on EEC's Eventbrite page.
Regulatory
LG&E and KU's 2021 IRP process is ongoing. Updates can be found through the KY PSC. Comments can be submitted by email to psc.comment@ky.gov including the case number (2021-00393) in the subject line and full name and place of residence in the body. A hearing was held for the case on July 12. Post-hearing data requests had to be filed on or before July 18, and were made by Kentucky Industrial Utility Customers, Sierra Club and the following joint intervenors: Metropolitan Housing Coalition, Kentuckians for the Commonwealth, Kentucky Solar Energy Society and Mountain Association. 
LG&E and KU are currently hosting a series of DSM Advisory Group meetings. These are intended to provide a platform for stakeholders to discuss EE and DSM initiatives for existing and new program offerings. Additional details, previous meeting notes and contact information for participating in the group can be found here. 
How to Get Involved
For more information about Kentucky or to get more involved, contact Amanda Caloras.

Legislative
On December 7, HB 6551-52 and SB 1238-39 were introduced. The bills seek to invest $1.65 billion in the state's housing stock to make homes more affordable and healthier. The bills allocate funds from the American Rescue Plan and the state's coronavirus recovery fund for low-income whole-home retrofits, health and safety (preweatherization) measures, weatherization, efficient and/or electric appliances, workforce attraction and retention and more. With the legislative session virtually over, the bills are not expected to move in 2022, but will likely be reintroduced in 2023 and serve as a negotiating point.
Regulatory
The Michigan Public Service Commission announced a reorganization, reflecting learnings from the MI Power Grid Initiative. The PSC now has several new divisions: a Distribution Planning Section, an Interconnection and Distributed Energy Resources Section, a Resource Adequacy and Forecasting Section and a Data Access, Privacy and Information Technology Section. Additionally, the Commission will adjust the scope of several other divisions by consolidating some and separating others. More information on these changes can be found in the press release.
DTE Electric filed its next IRP on November 3. DTE outlined plans to spend $9 billion on renewable energy and to end coal usage by 2035. On the efficiency side, the utility has proposed energy savings of 2% in 2023, and an average of 1.5% annual energy savings in 2024-2028 and 1.2% annual savings in 2028-2032. A public hearing on the plan was held on December 12th.
How to Get Involved
For more information about Michigan or to get more involved, contact Maddie Wazowicz.

Executive
On September 16, the Minnesota Climate Change Subcabinet released its Climate Action Framework. The Framework will serve as the state's plan to address and prepare for climate change. Additionally, the document sets ambitious goals and outlines dozens of actions for Minnesota government agencies to take. MEEA participated in the Framework's Clean Energy and Efficient Buildings Workgroup.
Regulatory
With Conservation Improvement Program plans due June 1, 2023, utilities have started preparing accordingly. CenterPoint Energy held two workshops in October for stakeholders to weigh in on program design and policy impacts. The state's other IOUs are likely to hold workshops or meetings in the coming months as they design their portfolios.  
Docket 21-566, which was opened in response to the passage of the Natural Gas Innovation Act (NGIA), remains active. Natural gas utilities will have the opportunity to present the Commission with plans to study and utilize alternative and innovative energy resources, like renewable natural gas, biogas and hydrogen. The Commission issued an order on September 12 clarifying and approving eligibility criteria for energy efficiency and strategic electrification investments under the NGIA. Additionally, a technical conference was held on September 19 to discuss the changes to natural gas utility regulatory and policy structures. The most recent workshop was held on December 2, with a third yet to be scheduled. 
Docket 21-548 was opened in response to the passage of the Minnesota Efficient Technology Accelerator (META) program. CEE's META application has been approved and they will be tasked with running the accelerator. CEE recently released a proposed budget for the META program including breakdowns per utility, totaling about $4.4 million for 2023. 
The Department of Commerce's CIP Cost-Effectiveness Advisory Group has been ongoing throughout the summer and fall. The group has provided comments on a straw proposal on which utility and non-utility impacts should be included in Minnesota's primary cost-effectiveness test. Upcoming work includes reviewing the final report of that phase of the process and beginning discussion on quantification of priority impacts.
How to Get Involved
For more information about Minnesota or to get more involved, contact Maddie Wazowicz.

Regulatory
Through Evergy's Missouri Energy Efficiency Investment Act (MEEIA) Cycle 2, 2023 extension year, Evergy has agreed to host four working group sessions to identify relevant information, potential partners, outside funding streams and other considerations for a feasibility study and vulnerability study regarding an Urban Heat Island (UHI) Mitigation program for Evergy's next MEEIA application, MEEIA Cycle 4. Evergy has hosted two working group meetings thus far and they plan to host two additional meetings before June 30, 2023. For more information or to join the working group, please contact Natalie Gray, Manager of Energy Efficiency Programs and Services with Evergy, at natalie.gray@evergy.com.
Ameren Missouri has held a few stakeholder collaborative meetings over the last few months on behalf of the Missouri Energy Efficiency Investment Act (MEEIA), which allows utilities to submit energy efficiency program filings. MEEIA does not set forth targets for energy efficiency, and program filings under MEEIA are entirely voluntary by the utilities. Ameren Missouri is preparing to file their MEEIA 4 portfolio, which will be a 6-year plan by the end of the year.
On October 19, the Missouri Energy Efficiency Advisory Collaborative Low-Income Work Group held its third meeting on income-eligible programs in the state. The meeting focused on several Missouri affordable housing providers who shared their reflections on electric utility low-income programs participation.
How to Get Involved
For more information about Missouri or to get more involved, contact Natalie Newman.
Legislative
House Bill 690 (Lanese, Manning) would amend the makeup of the PUCO, such that one of the five members would have to come from a separate nomination pool submitted by the Office of Consumers' Counsel, while the rest would be filled by the traditional nominating council process. 
Status: The bill was introduced on May 31, 2022. No new updates. 
House Bill 389 (Leland, Seitz) would permit voluntary EE portfolios by the electric distribution utilities, allowing for cost recovery and for the proposal of incentives and lost revenues. It contains provisions for low-income program funding, a 0.5% annual electric energy savings target, a cost cap, and an all customer opt-out provision.   
Status: Sub HB 389 made it to the House calendar on November 16 but did not get called for a vote. However, with a dozen or so Republicans opposed to the bill, the Speaker will not be bringing it to a vote this year.
The Ohio Energy Jobs & Justice Act (House Bill 429) would renew the repealed EE standard as an Energy Waste Reduction (EWR) standard that ramps up to the previous target of 22% cumulative savings. It would also create a statewide collaborative to facilitate the EWR planning process, a cabinet-level Office of Energy Justice and a carbon reduction plan for the state, among other provisions.   
Status: The bill remains in Committee. No new updates.  
Regulatory
Columbia Gas of Ohio has agreed in settlement with the Office of Consumers Counsel (OCC) and other parties to cut all except its low-income energy efficiency programs and to not support EE politically going forward. Read MEEA's blog for a look into what is left on the table with this decision. 
How to Get Involved
For more information about Ohio or to get more involved, contact Greg Ehrendreich.

Regulatory
In Docket 5-FE-104, the PSC released its order on the Focus on Energy Quadrennial Planning Process IV. The document compiles the 36 decisions the Commission made in each of the three phases of the Quad Plan and can be found here.  
Previously in the Quad Plan process, the Commission released decisions on Phase I, Macro Policy Decisions, in April. Overall, the Commission decided to use this Quadrennial IV as a transitional period to understand how the Focus on Energy program can play a bigger role in reducing carbon emissions and encouraging electrification. A summary of all the Commission decisions can be found here.  
In August, the Commission released its decisions on the Quad Plan IV Phase II memo, which outlined possibilities for the Commission to consider Micro Focus Implementation Decisions. The memo contained several topics for the Commission to consider, including: 
Overall vs. Fuel-Specific Savings Goals 
Lifecycle vs. First-Year Savings Goals 
Emphasis between Energy and Demand 
Time-Varying Value of Energy Efficiency and Renewable Energy Resources 
Low-Income and Income-Qualified Programs and Offerings in Cost-Effectiveness Tests 
Value of Carbon 
Behavioral Programs 
The Commission made 24 decisions on this phase, which can be found in the meeting minutes. Among the decisions, the PSC decided to maintain Focus' funding ratio (60% to business, 40% to residential), continue with the TRC test for cost-effectiveness scoring, and directed Focus and the Evaluation Workgroup to study a variety of issues, like winter peak and time-varying value of efficiency. 
And in October, the Commission made decisions on Phase III, which was much more narrowly focused. The Commission ruled at the October 12 meeting on Focus on Energy's savings goals, mid-plan review and key performance indicators for rural and low-income spending. A summary of the Commission's five decisions can be found here. 
In Docket 5-EI-158, Commissioners voted to hold a workshop on performance-based regulation. The initial workshop was held on January 11. Presentations from the meeting (including MEEA's) can be found in the docket. In an April order, the Commission directed Staff to continue facilitating further action on performance-based regulation. Staff held additional workshops in June, August, October and December. WPSC staff will now work to compile materials from the workshops and stakeholder comments into a report for the commission in early 2023.
How to Get Involved
For more information about Wisconsin or to get more involved, contact Maddie Wazowicz.
Executive
On December 19, The Biden-Harris Administration announced $45 million from IIJA to support resilient and efficient building energy codes to generate up to $138 billion in savings for homes and businesses, and improve health and safety. The money will come in the form of competitive grants to help states and partnering organizations implement updated building energy codes and lower energy bills for American families and businesses. Applications are now being accepted for this first wave of funding for the Resilient and Efficient Codes Implementation Program. Applicants must include a state agency to be eligible, and they may apply in strategic partnership with other organizations, such as state or local building departments, builders, contractors, architects, engineers, other design and construction professionals, academia, research, trade organizations, consumer advocates, regional energy efficiency organizations and other stakeholder interests who play an important role supporting the successful implementation of building codes. Read the full announcement from DOE here. Additional application information is available from the Office of Energy Efficiency and Renewable Energy here, with FOA number 0002813. Concept paper submissions are due on January 31, 2023 at 5:00 p.m. ET and full applications are due on March 27, 2023 at 5:00 p.m. ET.
The Department of Energy (DOE) released requests for information on three workforce programs funded through the Infrastructure Investment and Jobs Act (IIJA) and the Inflation Reduction Act. DOE's newly-formed Office of State and Community Energy Programs (SCEP) is requesting comments on the $200 million contract training program, the $40 million energy auditor training grant program and the $10 million career skills training program. RFI responses must be submitted electronically as an attachment to eeworkforceprograms@hq.doe.gov with "Workforce RFI Response" in the subject line by January 26, 2023.
On November 22, the Biden-Harris Administration released a Notice of Intent announcing $550 million to support community-based clean energy in state, Tribal and local governments through the Energy Efficiency and Conservation Block Grant Program. This funding is made available through the Infrastructure Investment and Jobs Act (IIJA) with applications expected to open in January 2023. For more information, see this announcement from the Department of Energy. 
On August 26, DOE released its guidance for implementation of IIJA's State Energy Program funds. These funds will provide a $425 million injection to state energy offices and can be used for a variety of projects to increase energy efficiency, reduce energy costs, lower carbon emissions and increase energy resiliency. See the allocation by state here. 
On August 16, President Biden signed the Inflation Reduction Act (IRA) into law. This legislation places emphasis on lowering energy costs, advancing environmental justice and developing the clean energy economy. IRA builds on investments within the Infrastructure Investment and Jobs Act (IIJA) and the current administration's efforts to tackle environmental injustice, the Justice40 Initiative. IRA has the overarching goals to reduce pollution, improve clean transit, make clean energy more affordable and accessible and strengthen resilience to climate change. Specific to efficiency, IRA includes tax credits for energy efficiency improvements, a new $4.3 billion rebate program, incentives for heat pumps and contractor training grants. The bill also includes Environmental and Climate Justice Block grants, as well as other programs pertinent to energy efficiency. See this summary of Energy and Climate Provisions within IRA.
On June 13, DOE proposed new energy efficiency standards for residential gas furnaces. If DOE's tentative agenda is adhered to, this would go into effect in 2029 and require gas furnaces to be 95% fuel efficient. According to DOE, older, less efficient and non-condensing style furnaces can have efficiency rates as low as 56%. The phasing out of these older furnaces is expected to save consumers $30.3 billion over 30 years. DOE has issued a pre-publication Federal Register notice announcing the availability of the preliminary analysis it has conducted for purposes of evaluating the need for amended energy conservation standards for non-weatherized oil-fired furnaces (NWOFs), mobile home oil-fired furnaces (MHOFs), weatherized gas furnaces (WGFs), weatherized oil-fired furnaces (WOFs) and electric furnaces (EFs). DOE will accept comments and information regarding this notice until January 30, 2023. Interested persons may submit comments identified by docket number EERE-2021-BT-STD-0031, by email. View the technical support document here. The EERE posts updates and provides an option to receive email updates on this matter here. 
The Energy Independence and Security Act of 2007 (EISA) contains stages of increasing efficiency standards for lighting. The Department of Energy finalized the "backstop" minimum efficiency standard of 45 lumens/Watt for screw-based lightbulbs (general service lamps) sold in the marketplace. The backstop effectively phases out virtually all sales of non-LED bulbs (i.e., incandescent, halogen) by July 2023. The import of non-compliant bulbs is permitted until January 2023, and their sale through July 2023, upon which fines would be imparted to retailers.  
How to Get Involved 
For more information about federal issues, contact Stacey Paradis. 

Recent Blogs:
Recent Comments:
 Recent Reports: