Maddie Wazowicz
| December 7, 2022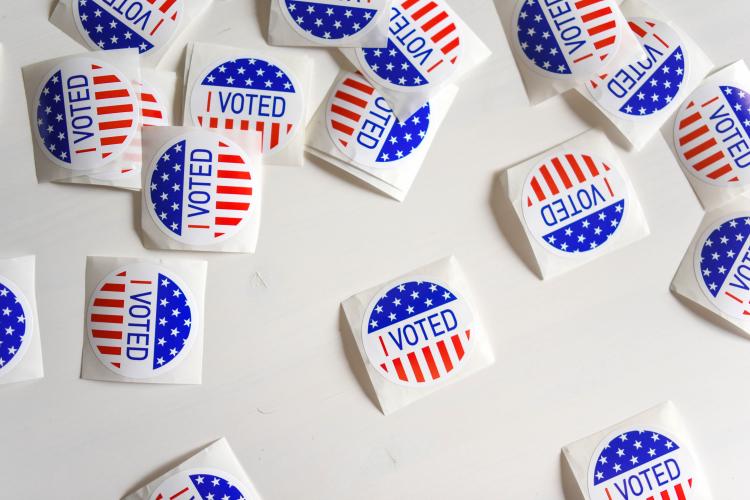 With another election in the books, the Midwest political landscape looks a little bit different. Much of the attention this legislative season was focused on who would control the US Senate and House of Representatives, but with nine Governors races and thousands of state legislative seats in MEEA states up for grabs, results will be very impactful. Democrats had a relatively strong showing at both the federal and state levels, averting some of the losses predicted by some pundits and polls.
For deeper analysis, watch the recording of MEEA's webinar on the election results and the impacts on Midwestern energy policy here.
Federal
Much of the attention this midterm election was on who would control the US Senate and House of Representatives. Historically, the party of the sitting President sees substantial losses in Congressional races. In fact, the President's party has only gained seats in Congress twice since World War II (once in 1998 and again in 2002).
With victories in Arizona and Nevada, Democrats went into December knowing they would have at least a 50-50 split in the Senate, with Democrats holding the tiebreaker with Vice President Kamala Harris. Just this week, Georgia held its runoff election between Sen. Raphael Warnock (D) and Herschel Walker (R), with Senator Warnock winning reelection. This gives Democrats a narrow 51-49 advantage. While both chambers are important, Democrats are relieved to hold onto the Senate in part because President Biden's appointments require Senate approval. If FERC Commissioner Richard Glick is not confirmed by the end of this congressional session, the Senate would be tasked with approving President Biden's next pick for a commissioner.
On the House side, Republicans took control of the chamber as expected. Though some polls predicted Republicans would gain a large number of seats, Republicans just eked out a win, capturing 220 seats, with two yet to be called. Republicans will now decide chamber leadership and committee assignments in the coming weeks. Even though Republicans have a somewhat narrow majority, President Biden will have a more challenging time passing elements of his agenda with a Republican-led House of Representatives.
State
In MEEA's territory, nine of thirteen states had gubernatorial elections. Out of those nine races, we knew that at least one state, Nebraska, would have a new governor since Governor Pete Ricketts was term-limited. The other eight states all had incumbents running and those candidates fared well: all eight held their seats. While incumbents traditionally are more likely to win, it is somewhat surprising that all eight were victorious. For more context, Democratic incumbents in four states (Illinois, Kansas, Michigan and Wisconsin) flipped their seats from Republicans in 2018. While not all equally vulnerable, it would not have been shocking if one or more lost this year due to the anticipated losses from the sitting President's party in a midterm election. Governor Tony Evers, for example, became the first Wisconsin Governor in 32 years to win reelection in a midterm election while being the same party as the sitting President.
On the legislative side, a whopping 85% of all state legislative seats were up for election (6,278 of the country's 7,383). While some races are set to go to a runoff or recount, we do know that Democrats put up a strong showing on the state side as well. Prior to this election, Republicans held control of 22 out of 25 Midwest legislative chambers, with only the Illinois House, Illinois Senate and Minnesota House in Democratic control. Democrats picked up some chambers this cycle, winning the Michigan Senate, Michigan House and Minnesota Senate, doubling the chambers they control in the region from three to six. Republicans retained much of their regional legislative control, strengthening their majorities in several states. Republicans held several supermajorities already and increased their control in states like Kentucky. However, Republicans were hoping to achieve veto-proof majorities in more Midwestern states. In Wisconsin, Republicans did flip a Senate seat but they did not achieve the veto-proof majority in both chambers that they were hoping for. And in Nebraska, Republicans gained two seats, but fell one short in their attempt for a supermajority in its unicameral legislative body.
With the flips, Democrats increased their trifectas from one to three (Illinois, Michigan and Minnesota, albeit with very narrow majorities in MI and MN). Republicans maintained their seven trifectas (Indiana, Iowa, Missouri, Nebraska, North Dakota, Ohio and South Dakota). That leaves Kansas, Kentucky and Wisconsin as the three Midwestern states with divided governments, all of which have Democratic Governors and Republican legislative control.
Looking Forward
Most Midwestern states held abbreviated legislative sessions for legislators to prepare for the campaign season. 2023 is sure to be a busy year for Midwestern legislatures. Prior to this election, many were already anticipating the introduction of additional HB6 repeal-and-replace bills in Ohio and the possibility of an energy rewrite bill in Michigan. Now, with somewhat surprising results in Minnesota and Michigan, it's possible that Democrats will try to move expansive agendas forward, including climate and energy policy. Minnesota passed meaningful, bipartisan energy bills in 2021 with the Energy Conservation and Optimization Act and the Natural Gas Innovation Act. It's possible that invigorated Democrats will try to move more ambitious climate and energy policy forward in Minnesota now that they have a Democratic trifecta for the first time since 2014. And in Michigan, where Democrats have not had a trifecta since 1983, legislators will likely try to move Governor Whitmer's climate priorities. Michigan tends to open up its energy legislation every 6-8 years, and it's anticipated that Democrats will follow this schedule and adjust the state's energy framework.
Several states have drafted clean energy plans in the last few years, like Michigan's MI Healthy Climate Plan, Wisconsin's Clean Energy Plan and Minnesota's Climate Action Framework. Now with elections out of the way and administrative continuity, Governors and their administrations can get to work on implementing these plans. MEEA looks forward to working with these state administrations to ensure that policies from these plans move forward.
Elections bring new decisionmakers. This is an opportunity for MEEA, our members and other advocates to educate new lawmakers and to emphasize energy as a topic that should be elevated in upcoming legislative sessions and the importance and impact of energy efficiency specifically.
| | |
| --- | --- |
| State | Anticipated Legislative Convening Date |
| Illinois | January 22 |
| Indiana | January 9 |
| Iowa | January 9 |
| Kansas | January 1 |
| Kentucky | January 3 |
| Michigan | January 11 |
| Minnesota | January 3 |
| Missouri | January 4 |
| Nebraska | January 4 |
| North Dakota | January 3 |
| Ohio | January 2 |
| South Dakota | January 10 |
| Wisconsin | January 3 |