Staff
| February 12, 2021
As we start 2021, it's time to unpack the energy efficiency implications from the November 2020 elections for our region. The election outcomes tell a story of two political realities for Midwesterners – Democrats decisively sweep at the federal level and Republicans strengthen their hold throughout the predominately conservative Midwest. While we can expect clean energy policy prioritization nationally, the majority of the Midwest will see it defined through executive action by Democratic governors and much less debate and action in most state legislatures. But we know that any lasting energy policy will require bipartisan cooperation for passage and successful implementation. With numerous energy bills expected to be reintroduced in new 2021 sessions, MEEA will continue to track processes and provide advocacy and meaningful nonpartisan education on the value of energy efficiency.
Federal Election Results Shine a Light on Clean Energy Policy
The federal election has captivated the country following exhaustive anticipation and months of drawn-out certification of results and immensely consequential senatorial runoffs. The final results are unambiguous: Democrats will control the White House and the Senate and remain in control of the House of Representatives. President Joe Biden and Vice President Kamala Harris won by seven million votes and 74 electoral college votes (306-232). The Senate will feature a 50-50 partisan split and majority control will go to the Democrats via Harris' deciding vote as President of the Senate.
Moving on from the election, the Biden Administration begins with four urgent priorities, any one of which would be a colossal undertaking: 1) End COVID-19 and provide relief; 2) Fix a struggling economy and workforce; 3) Establish racial equity and equal justice; and 4) Address climate change through mitigation and adaptation. The plan to counteract climate change includes commitments to expanded clean energy and energy efficiency, through home and business retrofits, electric vehicle deployment and green job creation.  
The Biden Administration will likely utilize the Department of Energy (DOE), Environmental Protection Agency (EPA), Department of Transportation (DOT) and close presidential advisors to implement climate change strategies and clean energy development policies. Biden also departed from previous administrations by creating novel positions in this area, including naming John Kerry as an international presidential envoy on climate change and Gina McCarthy as the first head of the White House Office of Climate Policy.
With the majority of energy-related policy change, research and implementation activities running through DOE, it is likely that former Michigan Governor Jennifer Granholm will be at the helm as to be Secretary of Energy. Granholm's nomination demonstrates a commitment to clean energy and electric vehicles, leveraging car manufacturing states like Michigan to position the US as a leader. The prospects for energy efficiency look very strong when you consider her past support for our industry and recognition of EE's economic, environmental and societal benefits. More broadly, DOE priorities will be implemented through the State Energy Offices, allowing for increased funding opportunities and signaling state governments to develop clean energy strategies to combat climate change.
Other relevant Biden Administration appointment nominations:
Pete Buttigieg, nominee for Secretary of Transportation
Marcia Fudge, nominee for Secretary of Housing and Urban Development
Deb Haaland, nominee for Secretary of the Interior
Gina Raimondo, nominee for Secretary of Commerce
Tom Vilsack, nominee for Secretary of Agriculture
Isabel Guzman, nominee for Administrator of the Small Business Administration
Eric Lander, nominee for Director of the White House Office of Science and Technology Policy and presidential science adviser
Michael Regan, nominee for Administrator of the Environmental Protection Agency
In Congress, Democratic control of both the Senate and House of Representatives could provide a legislative avenue for any administration clean energy or climate change priorities. House and Senate committee chairmanships will go to Democrats, likely raising the chances that energy legislation will make it through committees and to the floors. However, Congress just passed a compromise package containing substantial energy efficiency provisions related to buildings, appliances, industry/manufacturing, water and workforce development - including new and expanded programs, incentives and technical resources.
Midwest Region Sees No Significant Changes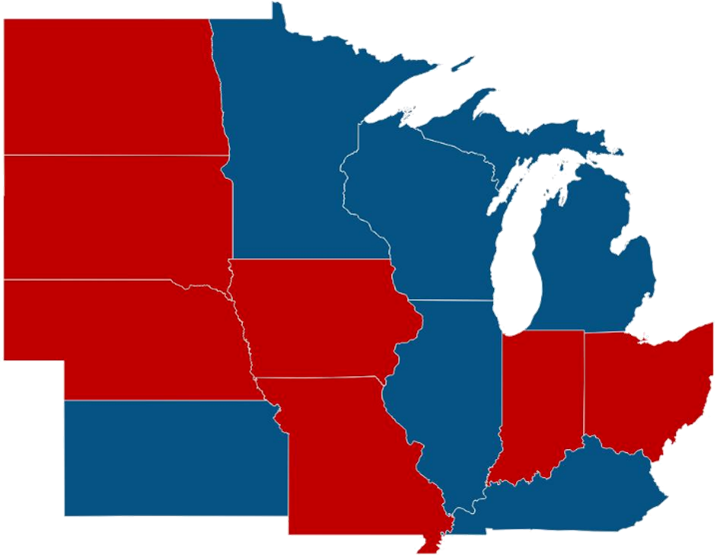 In the Midwest, the election maintained the status quo with nominal gains made by Republicans in state legislatures. The only three gubernatorial elections saw the incumbent Republicans win re-election in Indiana, Missouri and North Dakota. Two surprises in the region were Democrats failing to take control of the Minnesota Senate and Republicans failing to secure a veto-proof supermajority in the Wisconsin legislature.
With few exceptions, Democrats alone have prioritized clean energy and combatting climate change in the Midwest. Republicans have taken few recent steps to lay out clear clean or alternative energy proposals, preferring a hands-off, less prescriptive and market-based determination of the best way forward. As a result, the Midwest will likely continue to see clean energy proposals by Democratic governors and in Illinois, the only Democratic trifecta. However, given Republican legislative strongholds, bipartisan support and compromise will be necessary in order for pending clean energy policy proposals to pass.
States to watch:
Illinois: The Pritzker Administration has signaled their intention to release a utility reform, affordability and clean energy centered legislative package consistent with their Eight Principles. While we wait for the administration's language, the Illinois Clean Jobs Coalition has offered a 900+ page Clean Energy Jobs Act bill, and other groups have introduced renewable energy-related legislation.
Minnesota: Governor Walz has once again proposed policies to get the state to 100% carbon-free electricity. Walz proposed this policy in 2019, but this time, the administration is pushing to reach this target by 2040 instead of 2050. The legislature has already reintroduced some familiar energy legislation: the Clean Energy First Act (HF10) and the Energy Conservation and Optimization Act (HF164/SF227). These bills made headway in 2020 but failed to pass both chambers.
Ohio: In Ohio, the largest corruption scandal in the state's history thrust a controversial law—HB 6, set to end energy efficiency in the state­—back into the spotlight. Currently, legislators are debating the possible repeal and replacement of the law, now tainted by a $60 million alleged bribery scheme. Given there is robust legislative debate over the future of state energy policy and a recently vacated PUCO seat created by the departure of former Chairman Sam Randazzo, there is a lot to watch on the legislative and regulatory front in Ohio that will impact energy efficiency.
Wisconsin: The Evers Administration has made a strong commitment to clean energy. In 2020, a climate change task force led by Lt. Governor Barnes released 50 recommendations which included establishing an environmental justice office, reducing carbon emissions by utilities and creating a statewide transportation plan. Through an Executive Order, the Governor's administration is drafting a carbon-free standard and a new state energy plan will be created in 2021. 
So, what might this all mean for the energy efficiency industry?
In the first debate between then-President Donald Trump and former Vice President Joseph Biden on September 29, 2020, Biden stated: "We're going to…take 4 million buildings and make sure that they in fact are weatherized..."
President Biden has made clear that energy efficiency is a central component to a clean energy future. Nominating Granholm further underscores this point, ensuring an energy efficiency supporter will position DOE to create the energy landscape of the future. Moreover, the prospect of federal legislation to increase prioritization and investment in energy efficiency will embolden Midwest states that have made otherwise nominal inroads to broaden clean energy policy shifts.
Energy efficiency's role in affordability could strengthen any COVID-19 relief packages this administration seeks to implement. Small and medium-sized business and residential customers (including under-resourced and affordable housing), hit hardest during the COVID-19 pandemic and health crisis, stand to benefit greatly from relief packages. Economic recovery and health crisis relief efforts may help a struggling EE workforce that has seen a 70,981 job drop in the Midwest alone during the pandemic. Communities of color – hit hard by COVID-19 – are plagued by historic exclusion, housing and employment related discrimination. Impacted communities may see opportunities to dismantle barriers to good jobs, livable and efficient housing and more equitable outcomes through administration efforts on COVID-19, the economy, racial justice and climate change.
So, what might this all mean for MEEA?
MEEA is committed to working with states and the federal administration (through the DOE and EPA primarily) to promote and implement practical energy efficiency solutions toward a more reliable, resilient and equitable energy system. We have committed as much to the Biden Administration in a letter to Energy Secretary nominee Granholm. MEEA will work with DOE's Office of Energy Efficiency and Renewable Energy, the national labs and state energy offices to develop resources, implementation strategies and technologies to advance the role of energy efficiency.
MEEA has long worked with state energy offices in our region, providing technical assistance with state energy planning collaborative facilitation, energy efficiency policies and program best practices, building energy code development, adoption and compliance, stakeholder outreach strategies and facilitation, subject-matter specific guidance and research development, workforce trainings and COVID-19 related EE industry impacts analysis and planning. We look forward to assisting states with implementation of federal and state priorities over the next several years.
At the regional and state levels, MEEA will continue to engage state policymakers, decision-makers, regulators, MEEA members, environmental and consumer advocacy partners and our network to educate and craft meaningful energy efficiency policy solutions to lower bills, reduce energy consumption, decrease system-wide costs, optimize the grid and increase flexibility in utility system supply-side and demand-side options.
As a resource, MEEA held a webinar in December 2020 with a review of the 2020 election results and potential impacts in the states. If you have further questions related to the election results or potential ramifications for our industry, please contact MEEA Policy Director Nick Dreher.