Energy efficiency holds great potential to deliver the benefits of a clean energy transition to marginalized Black and Brown communities. However, it is imperative that programs and policies be developed by centering the perspectives of members within those communities and their representative organizations. In doing so, we can move more effectively toward energy equity.
As an organization that serves to represent and advance the energy efficiency sector in the Midwest, MEEA is committed to ensuring that benefits of investments flow to historically excluded communities. MEEA held a workshop at our annual Midwest Energy Solutions Conference that featured voices from community action agencies, community-based organizations and implementers of energy efficiency programs. The expert panel discussed the dos and don'ts of energy efficiency programming and diversity, racial equity and inclusion (DREI) commitments.
The workshop, Exploring Community-Based Approaches to Inclusive Energy Efficiency, presented two panels to address the fundamental concern that, too often, policies and programs lack input, involvement and consideration from the communities they are meant to serve.
Panel I: Leading Examples of Serving Community Needs
The first panel featured four community-based organizations from across the Midwest that are meeting the unique needs of their community.
One conversation centered on providing households eligible for various financial assistance services, including energy and housing programs, with a more streamlined experience. Shama Mounzer, Empowerment and Integration Services Executive Director of Wayne Metro Community Action Agency, discussed how her team used the pandemic as an opportunity to develop her agency's capability to streamline the intake process for her clients.
Marcus Johnson, President and CEO of the Springfield Urban League in Illinois, focused on workforce development: specifically, how his organization connects job seekers with energy efficiency job opportunities. Springfield Urban League partnered with Ameren Illinois to support Ameren's Market Development Initiative and developed an Energy Efficiency Jobs Board. Moreover, Marcus identified specific solutions to barriers like the cost of education and lack of academic preparedness, mentorship and exposure which hinders greater access to careers in clean energy. Their collaboration is an example of a utility partnership breeding tangible solutions to systemic barriers.
Robert Blake shared his perspective as the Executive Director of Native Sun Community Power Development, based in Minnesota. Native Sun serves a number of tribal nations, which means it must ensure it is responding to needs in all of its communities. Blake discussed how in the past, Native Sun has offered a range of support services like energy assistance application help and free energy efficiency kits.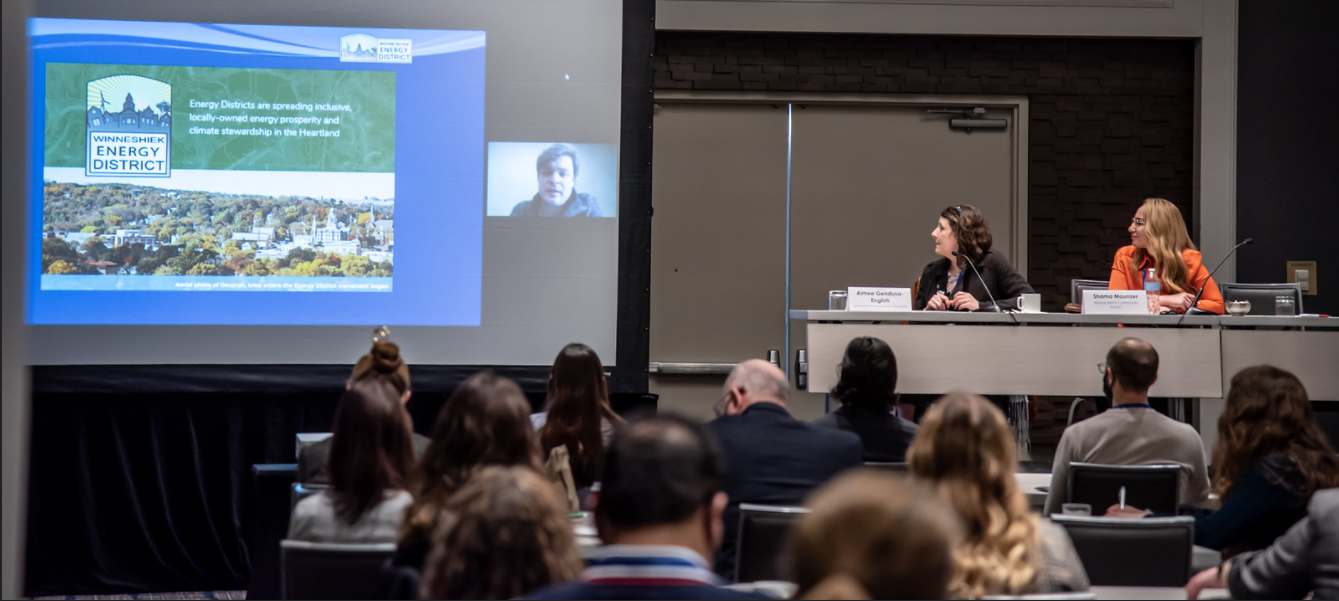 Finally, Joel Zook of the Winneshiek Energy District in Iowa emphasized the importance of energy independence. As the first energy district, Winneshiek hopes to lay the foundation for other towns and areas to develop their own energy districts and promote their independence in the clean energy transition.
Panel II: Centering Community Perspectives in Energy Efficiency Programs
The second panel featured community-based organizations and nonprofit organizations working to center community perspectives within energy efficiency programs. Within the context of meaningful community engagement, themes included using inclusive language and ensuring that equity goals are sincere and impactful.
The language typically used to refer to Black or Brown communities facing the impacts of economic oppression perpetuates implicit biases and preconceived notions. As Yami Newell, Associate Director of Community Partnerships at Elevate, noted, "Communities who are not at the table don't feel like programs are designed for them because of the language used. You often see worlds like low-income, hard-to-reach and disadvantaged. That isn't who they are." Instead, panelists advised using the names of neighborhoods rather than generalizing attributes. In addition, framing the assets of those communities, placing people before their condition (e.g., people struggling with high energy burdens) and acknowledging the historical context of those conditions whenever possible are ways to move away from language that stigmatizes.
For communities to see the flow of social, economic and environmental benefits of clean energy investments, utilities and other organizations need to operationalize their equity commitments. Naomi Davis, Founder and CEO of Blacks in Green, emphasized that groups need to avoid "pimping equity," or adopting DREI goals for the benefit of marketing without taking steps to track and report the impact of their initiatives or actions. Each sector of the energy efficiency industry serves a unique purpose and therefore a unique role in facilitating equity. The key is collaboratively developing and sharing initiatives and metrics and working with communities to witness and promote the associated impacts.
Discussions during the workshop identified a number of strategies to meaningfully engage communities on energy efficiency. Coordinating with a diverse set of agencies and organizations serving particular communities is a key first step. Program administrators and providers must understand that energy efficiency programs are among a suite of resources that, when aligned, can more holistically address households struggling with high bills and other issues like home-health hazards or a digital divide. For utilities and organizations, convening community members to listen to concerns and compensating their time are strategies to improve perception and visibility. Lastly, there is an opportunity to partner with community-based organizations, like EcoWorks in Detroit, to support their existing community initiatives. 
This workshop featured perspectives from organizations that are leading examples of how to meet the unique needs of their communities and are champions of community representation within energy efficiency program development, ensuring that benefits flow into Black and Brown communities. It's clear that, without consciously facilitating such efforts, the immense opportunity to reduce energy bills, drive the clean energy transition and develop a diverse clean energy workforce won't be realized.
By providing a platform for voices like those featured in this workshop, MEEA aims to share their strategies and guidance to the energy efficiency sector in the Midwest and cultivate the environment for energy equity. Reach out to MEEA's staff to connect with experts like those on this panel to learn how your organization can improve your approach to achieving equity goals and fostering energy equity. You can access presentation slides from this workshop here.