Staff
| September 21, 2021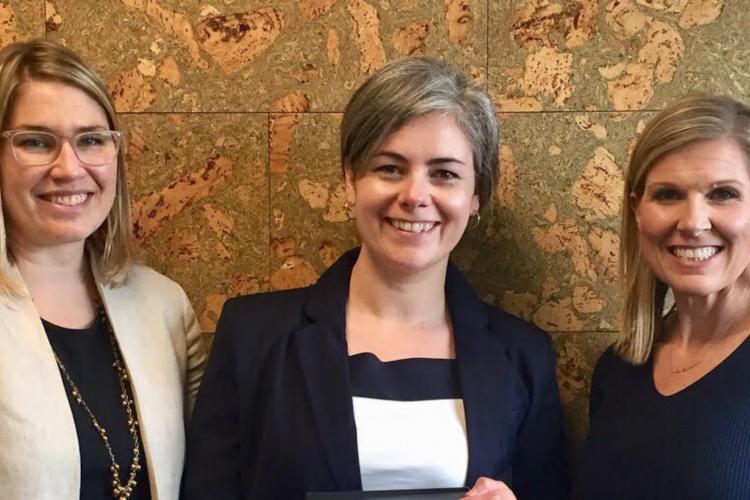 Each year, the Inspiring Efficiency Leadership Award is presented to the organization or individual who has served as a strong leader in support of energy efficiency in their city, state, region, company or community. In 2021, there were two recipients of the Inspiring Efficiency Leadership Awards.
Today we are highlighting the Ohio Environmental Council for their outstanding leadership in advocating, convening, organizing and facilitating the Ohio state energy table. This collection of stakeholders advocates for legislation that incorporates energy efficiency for consumers and ratepayers. OEC continues to unify stakeholders and spread knowledge on the value of energy efficiency, specifically in the political context of Ohio. Through delivering testimony and targeted advocacy with numerous Ohio politicians, OEC has been a driving force for energy efficiency policy in Ohio for over a decade. To learn more about the Ohio Environmental Council's work, read our interview with them below.
Q: What did it mean to win this award?
The challenges we have faced at the state level for over a decade have been immense, but we were able to block repeal of Ohio's clean energy standards for nearly a decade. It took a bribery scandal to finally repeal them. We continue to work to make sure the public and decision makers across Ohio are aware of and understand the benefits of efficiency and need for an equitable clean energy future. The recognition of these efforts was so appreciated by our team.
Q: What is a recent win for OEC's energy team?
The bipartisan House Bill 389 was recently introduced in Ohio to restore part of the state's energy efficiency programs. While not as robust as our previous programs, we see this as a good step in the right direction and a shift in the legislature's mindset recognizing that House Bill 6 went too far when it removed our efficiency programs entirely and that we need to bring those back to help Ohioans reduce their energy consumption and lower their electricity bills. We look forward to educating decision makers and the public on the benefits restoring efficiency programs provides.
Q: With so many energy-related house bills in the most recent legislative session in Ohio, what campaigns are you currently working on to continue the push for energy efficiency in your community?
With the difficulty we have experienced at the Ohio Statehouse on clean energy issues, we have shifted part of our work to focus on Ohio cities that are eager to join in on the fight for a more sustainable future for Ohio. Specifically, we have been partnering with Power a Clean Future Ohio (PCFO) to work with Ohio cities that are working to take action to reduce their emissions. We are proud that 17 communities across the state have joined PCFO by committing to fighting climate change in an equitable way. Additionally, we are excited that a bipartisan piece of legislation on energy waste reduction has been introduced at the Statehouse. While it's not as robust as the OEC and our partners would like to see, we are encouraged about this legislation because it is an important step in the right direction on energy issues in Ohio.
Q: As one of Ohio's leading energy advocacy organizations, how do you inspire others to join you in the fight for energy efficiency in their communities?
As more and more people understand the urgency and threat of climate change, people are looking for ways to make an impact on a problem that seems so much bigger than them. Making sure your home is energy efficient is a very concrete step to help in the fight against climate change, and also helps reduce bills, making efficiency of interest to nearly every person with an electricity bill. We always aim to present climate solutions in a way that makes people want to get involved, whether that's reducing your energy bills or reducing your carbon footprint. Energy efficiency measures, happily, do both!
We always aim to present climate solutions in a way that makes people want to get involved, whether that's reducing your energy bills or reducing your carbon footprint.
---
Throughout the complex environment that is politics in Ohio, OEC has remained resilient in their advocacy and showed a commitment to advocating for energy efficiency in their state. When one avenue closes, they are always searching for the next opportunity to jump on. The team at OEC is passionate and driven, which made it an easy decision to present them with one of the 2021 Inspiring Efficiency Leadership Awards.
Do you know a person or organization who is passionate and dedicated to advancing energy efficiency? Consider nominating them for the 2022 Inspiring Efficiency Awards! The applications are open until September 24th and you can find the forms here.