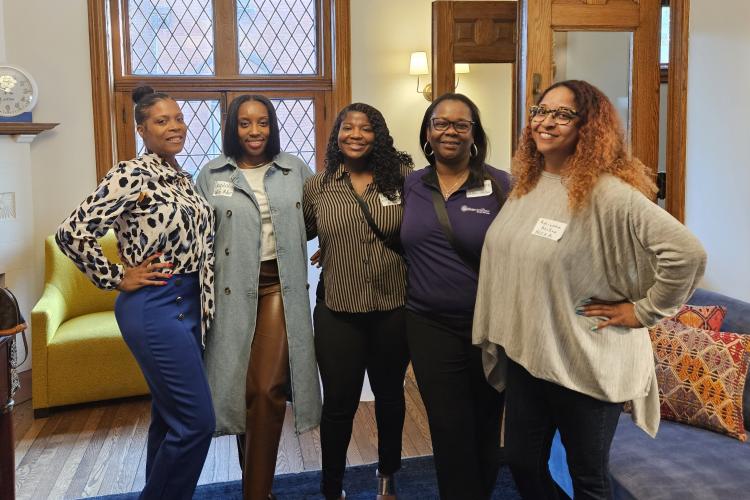 From May 18-19, MEEA members united in Detroit, MI for the 2023 Annual Meeting of the Membership. The days went by quickly as members participated in workshops & discussions, networked and explored the Motor City. This time together left our members excited for the year ahead!
Thursday, May 18
MEEA members had the chance to hear from Malcolm Miller, Anjuli Jain Figueroa and Chris Gunn from the Office of Economic Impact and Diversity, US Department of Energy (DOE), as they presented a workshop on the Justice 40 Initiative with a goal of flowing 40 percent of the overall benefits from climate and clean energy investments to disadvantaged communities (DACs). The workshop prompted great discussion among members as they used new DOE mapping tools to complete group activities at their tables. The groups had meaningful dialogue about engaging with diverse businesses and communities. The workshop also provided members the opportunity to give feedback on the mapping tools, as well as help develop mock Justice40 Initiative Community Benefit Plans (CBP) for grid modernization projects. A few members brought up interesting input on including map filters or overlays for further analysis of the DACs.
After the completion of the workshop, members were able to keep the networking going as they embarked on one of three chosen tours to the Wright Museum, Michigan Science Center or the Henry Ford Museum for American Innovation. The tours provided ample time at each location for members to get to know one another while exploring the museums together.
The night ended at Lumen, a bright establishment in Beacon Park, where members enjoyed food and drink over great conversation, either inside or outside on the rooftop deck, which provided great views of Comerica Park, home of the Detroit Tigers. Post-reception, many members explored the local music scene, finding great, live jazz music only a few blocks away at Cliff Bell's.
Friday, May 19
After Board Chair, Kristol Simms, welcomed the members to the Annual Meeting, Connie Lilley from the Detroit 2030 District got the ball rolling with opening remarks about the Detroit 2030 District and DTE Energy's Data Hub. After Lilley's remarks, Simms took inspiration from the meeting's location in Detroit to ask members to share their first car and favorite Motown song while introducing themselves.
Before taking a networking break, members were presented with the 2023-2024 Board Members.
Four board members are departing this year and we would like to thank them for their years of service to MEEA:
Brian File, Evergy
Wendy Jaehn, Guidehouse
Scott Steiner, TRC Companies
Kristol Simms, Ameren IL, additionally for her leadership as MEEA's Board Chair for the last 2 years
MEEA members voted to approve four new Board Members:
Theresa Schmidt, Consumers Energy
Kevin DeMaster, Mitsubishi Electric Trane HVAC
Ashley Palladino, Resource Innovations
Brian Doyle, Xcel Energy
2023-2024 MEEA Officers are as follows:
Chair – Brandon Renaud, Columbia Water & Light
Vice Chair – E'Lois Thomas, SEEL, LLC
Treasurer – Vinoth Sekar, Willdan
Secretary – Cliff Haefke, Energy Resource Center at UIC
Energy Efficiency Still Needs a Voice: Policy Challenges and Engagement at Federal and State Levels
The day concluded with a discussion focused on energy efficiency policy challenges and engagement at Federal and State levels. The panel discussion was moderated by MEEA's own Jason Liechty & Alison Lindburg. The panelists included Dane Farrell, Director of Government Affairs at Cascade Associates, Eric Lacey, Chairman of the Responsible Energy Codes Alliance and Eric Fowler, Senior Policy Associate – Buildings at Fresh Energy. After Jason introduced the group, Allison gave a brief overview of energy codes, the purpose of such codes and updates on which midwestern states have adopted which codes. The panelists then each had time to speak to current legislative actions happening in our region and federal funding opportunities available. While current and future funding opportunities are quite substantial, there are still hurdles for states applying for funding, like requirements of updated energy codes or workforce needs. The panelists discussed what challenges we are likely to see in the next year and highlighted that energy efficiency should be the first thing considered in developing clean energy plans and funding proposals. This invigorating discussion was a great reminder of the work needed to be done and the opportunities MEEA and our members can take advantage of to move the industry forward.
Thank you to all of our members who attended, our workshop creators, our panelists and our board members for making this year's Annual Meeting a success!