Jen Rhodes
| October 25, 2021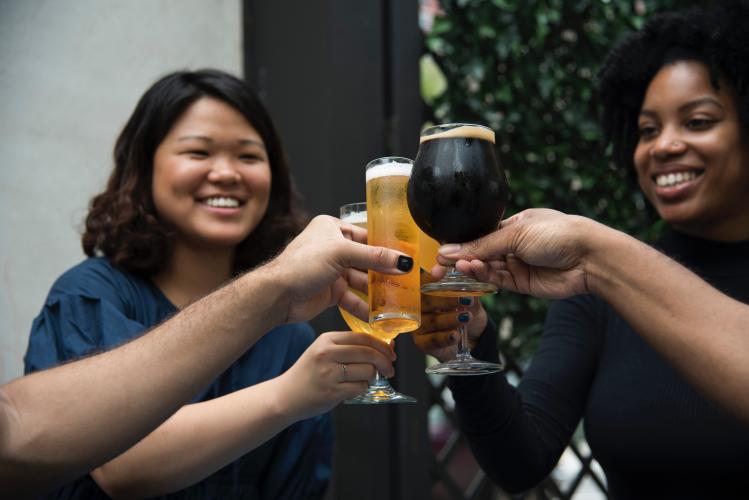 This fall, MEEA hit the road to shake off the small talk cobwebs and dip our toes into small, safe networking gatherings again. In seven weeks, we visited six cities to host our members for happy hours, each offering outdoor space to distance and mingle with snacks and cocktails.
These six events brought the first time I'd been in an airport or on a plane—or at a work gathering in 19 months—and I was nervous, but pleasantly surprised at the number of masks and understanding head nods I got throughout my travels.
Each event brought between 15-35 members out from their homes and Zoom rectangles to catch up with MEEA staff and fellow members. We talked with members about things like how their companies are moving forward in this time, how they're reaching customers and what MEEA can do for them to help with these challenges. We also talked about things like the coming football season, a new school year starting up for kids and the latest season of Ted Lasso.
Small talk and networking, for me at least, is a skill that needs to be practiced, and while Zoom breakout rooms with a prompt like "favorite pandemic recipes" are a fine replacement, nothing beats a (distanced) face-to-face conversation with someone. Organic conversations are something so rare these days, it truly was refreshing, even despite any awkward small talk nuances.
We heard from our members that in-person events are important to maintain their connection to the industry. And at these gatherings, conversations reinforced this. Business opportunities were made because of organic connections, business cards (remember those?) were exchanged and familiar colleagues caught up. While virtual events and webinars will continue to have a place in our offerings, it's nice to connect with someone in person.
These events were also significant for us to get in-depth feedback on our membership offerings, how we can support our members and what it would take to host successful events over the next year. We heard from many members that they're very excited to attend MES 2022 this coming February. MES 2020 was, for many people, their last event before the pandemic really hit here, and MES 2022 would mark their first back. The many positive responses we received from those in attendance, or those unable to make it but looking forward to next time, were reassuring and help us plan for future events like MES in confidence.
We understand that not everyone was ready or able to come out and meet us at these events, and it might take time to get comfortable being around people again, but we'll be here, following the CDC guidelines and encouraging a safe and healthy way to connect with your colleagues when you're ready. These events offered a helpful gauge on the health and safety precautions we are exploring or requiring for MES to help ease concerns for future travel. Hearing our members' feedback is crucial to our success.