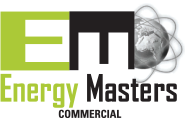 Energy Masters is a BPI certified, building weatherization company headquartered in Des Moines, Iowa. Since 2007, Energy Masters has worked with utility companies throughout the United States to weatherize over 15 million square feet of commercial, multifamily and residential space.
The most cost effective components of an energy efficiency program remain in rotation but lose steam as the market is penetrated. In other words, much of the low hanging fruit has been harvested and program planners are looking for a new bountiful crop.
The Energy Masters approach simplifies building weatherization by making insulation and air sealing a direct installation measure. Multifamily weatherization is the newest low hanging fruit.
Energy Masters has worked with utility companies and program administrators in many different capacities, as a trade ally in a prescriptive program to exclusive contractor in a pilot program. If you're searching for energy savings for your energy efficiency program, look no further.
Member since 2013
Member website http://energymasterscommercial.com/