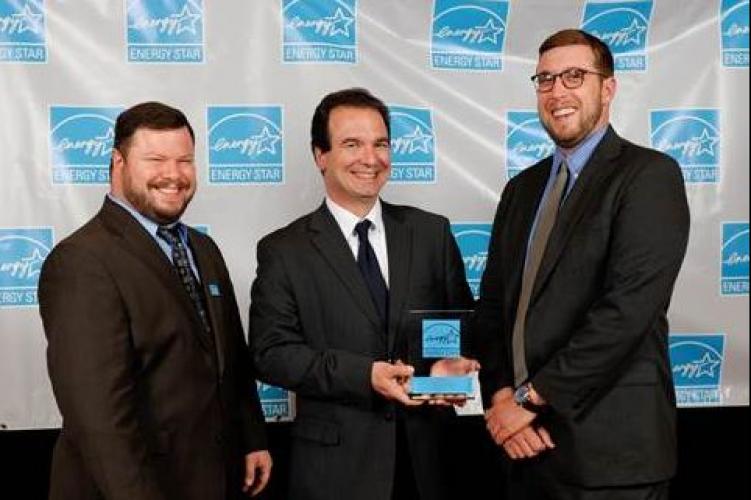 The U.S. Environmental Protection Agency has recognized the Illinois Energy & Recycling Office at the Illinois Department of Commerce and Economic Opportunity (DCEO) with a 2015 ENERGY STAR® Partner of the Year Award for its work on the Illinois Home Performance with ENERGY STAR program. DCEO's accomplishments will be recognized in Washington, D.C. on April 20, 2014.
DCEO sponsors Illinois Home Performance, a statewide program coordinated by MEEA that helps Illinois homeowners improve the comfort, safety, value, and efficiency of their homes. To date, Illinois Home Performance has awarded Silver and Gold Certificates of Completion to over 5,100 Illinois homeowners. The program has also trained hundreds of home performance contractors in advanced building science and has educated hundreds of real estate professionals about the value of energy efficiency in Illinois homes.
"There's a big difference in air movement in my home. You used to feel the cold air coming in and moving through the house, and you don't feel that chill anymore," attests Ann Robertson, a Springfield homeowner who received an Illinois Home Performance Certificate. Ms. Robertson took advantage of utility rebates to offset the cost of her home energy upgrade. She worked with Green Home Weatherization, a qualified contractor, to install insulation and seal the leaks where heated air once escaped to the outside.
Since its inception in 1992, ENERGY STAR and its partners have helped prevent a total of more than two billion metric tons of greenhouse gas emissions. In 2013 alone, ENERGY STAR and its partners provided more than $11 billion in societal benefits due to reducing damages from climate change.
ENERGY STAR has 16,000 partners working to protect the environment through greater energy efficiency, including manufacturers, retailers, public schools, hospitals, real estate companies, and home builders.
For a complete list of 2015 winners and information, and more information about ENERGY STAR's awards program, visit www.energystar.gov/awardwinners.
For more information about Illinois Home Performance, visit www.illinoishomeperformance.org or call the Illinois Home Performance hotline at (866) 395-1032.