Chris Partridge
| March 16, 2016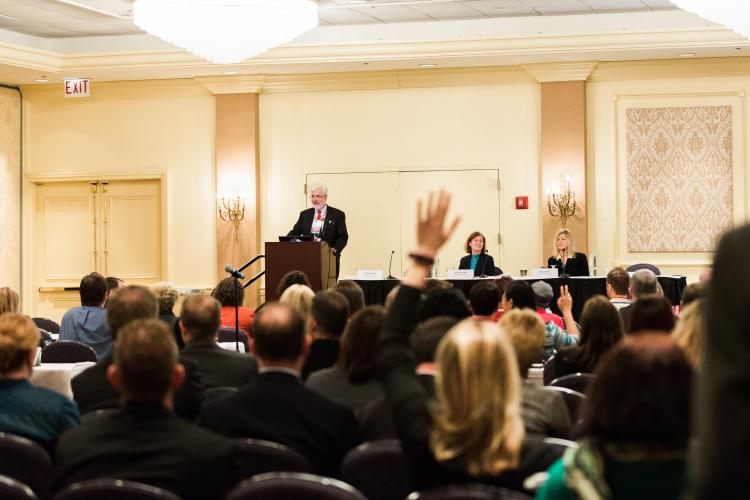 On February 24-26, more than 650 energy professionals (a new attendance record!) gathered at the Chicago Hilton & Towers to discuss energy efficiency, the utility industry, benefits to economic development, industrial efficiency and the potential impact of state and federal regulations at the 14th annual Midwest Energy Solutions Conference. With experts and business leaders from around the globe, MES was an unparalleled opportunity to network, swap best practices and plot the future of the energy efficiency community.
This year's MES conference tackled critical questions like:
How is energy efficiency achieved overseas?
What is the state of residential LED lighting?
How are Chicago-area media covering climate and energy issues?
What is the future of utilities around the Midwest?
Wednesday
The conference kicked off Wednesday with an opening keynote address from Ralph Cavanagh of the Natural Resources Defense Council, followed by a plenary session overviewing recent actions surrounding the EPA's Clean Power Plan. The rest of the day explored new partnership opportunities in energy efficiency in breakout sessions like "kWH2O: A Mashup of Water and Energy" and "Energy Efficiency and Demand Response: Now Offered in One Convenient Package."
Thursday
Colin Thurmond of Digital Lumens presents on LED lighting during the Exhibitor Demo Showcase.
Thursday's sessions looked at EE both globally and locally with the plenary "Energy Efficiency Outside the Midwest: A Global Perspective", where speakers from Germany, France and Canada shared best practices from their home countries, and "EE Pluribus Unum: Cities United in Energy Efficiency Efforts." While visiting the Exhibit Hall to chat with exhibitors and play the Passport to Prizes sweepstakes, attendees had the opportunity to see live presentations on the brand new demo stage, as well as a Q&A with utility reps catered to EE businesses. The day wrapped up with a member reception and the 12th Annual Inspiring Efficiency Awards.
Friday
One of this year's most well-liked sessions came on the closing morning of the conference. "Freaky Friday: An Evaluator, an Implementer and a Utility Swap Roles and Gain Perspective" flipped the tables and allowed evaluation and implementation teams to present from each other's viewpoint, discussing the issues the respective sector faces, opportunities for improvement and strategies for building more effective partnerships moving forward. Friday morning started out with even more insight into utilities with the roundtable "Utilities Take Center Stage," which included utility executives from ComEd, Duke Energy and Xcel Energy review the necessary business case for energy efficiency.
Friday's panel "Navigating the New Media Landscape: The Rise of Digital Newsrooms and How to Get Your Story Out"
Thank You
MEEA would like to thank the speakers, sponsors, exhibitors, attendees and board members who made MES 2016 a tremendous success. See you at MES 2017!